May 2020 Oblate Reflections and Lectio Divina
Topic:  The Emmaus Story, Creating a Peaceful Environment
Sources: Luke 24:13-35
After a successful inaugural Zoom meeting in April, the Oblates of Christ the King Priory were excited to meet again "virtually" as we continue to physically distance and adapt to the uncertainty that the pandemic brings. We began our morning with introductions, personal prayer intentions and Morning Prayer from the breviary.
Our Lectio Divina reading was Luke 24:13-35, the Emmaus Story. At St. Benedict Center, adjacent to Christ the King Priory and our typical oblate meeting place, all who enter are greeted with a mural of the Emmaus Story. It is the hope of the monks that visitors to the Center may have an Emmaus experience. "Were not our hearts burning within us as He spoke?" (Luke 24:32) Just as Jesus opened the Scriptures, revealing himself in the breaking of the bread, so too can those on the spiritual journey meet the living Christ.
Rich in meaning, there are many words and phrases that resonate with our group:
Stay with us. Initially, the disciple's eyes were prevented from seeing the Risen Christ when encountering him on the road. They are talking, debating, and rehashing the events of the last days. They are downcast; disappointed, that the one they had hoped would redeem Israel was crucified. They are incredulous, sharing that the women of their group had reported that Jesus' body was gone. The stranger promptly gave them an Old Testament lesson— "Oh, how foolish you are! How slow of heart to believe all that the prophets spoke!" The disciples ask the stranger to stay with them. In the breaking of the bread, they see him. Isn't it interesting, an oblate shared, that the disciples were not put off with Jesus immediately vanishing? He vanishes, and yet now they recognize him. It is a paradox that he is gone, but also present.
"With that their eyes were opened and they recognized him, but he vanished from their sight. Then they said to each other, "Were not our hearts burning [within us] while he spoke to us on the way and opened the scriptures to us?"
How often are we prevented from seeing the truth of the Risen Christ, the beauty of creation, the holy in the ordinary? Even now, in this time of pandemic with much suffering, grief, and uncertainty, there is still the sun, moon, trees, sky and grass—all of Christ and creation is still here. Nothing has disappeared. Do we look? Do we stop and truly listen as the disciples did? Do we want to see or hear?
In the Emmaus story, Christ is made known in the ordinary—during a discussion or debate, in the breaking of the bread, when meeting a stranger. Christ can be known in our ordinary too. Yes, he is risen, he is with us. Even when he leaves, he is present. It is the archetypal Exodus story—there must be a leaving for there to be a coming home.
Breaking of the bread. In our hunger for the Eucharist, we realize the hunger of others. In this time of pandemic, unable to attend Mass, we have all becomes celebrants of the Eucharist—we distribute food for the homeless, refugees, and those in need because of job loss. We are being Jesus in the breaking of the bread. Some of us shared that during stay at home restrictions it feels that we are constantly preparing food, eating, clearing the table, washing dishes—and yet these ordinary activities have taken on a sacredness. With so much food scarcity, meals have become the focal point of our day. We feel more gratitude, a joining of our hearts in prayer with those who do not have enough and we contribute in ways that we can for those with food insecurity.
Fr. Jim, one of our oblates, shared, "Eucharist is not a noun, it's a verb. It is about thanksgiving, about feeding others. It is a presence we are called to be." This is our directive—now imitate what you celebrate. The Eucharist impels us to be everything we just celebrated, to go into the world and to serve others. Intimacy with God is in the incarnation, the Eucharist, the Word and within us.
Pastor Steve, one of our oblates, shared this reflection on the Eucharist by Martin Luther (1519):
When you have partaken of this sacrament, therefore, or desire to partake of it, you must in turn also share the misfortunes of the congregation…. There your heart must go out in love and devotion and learn that this sacrament is a sacrament of love, and that love and service are given you and you again must render love and service to Christ and His needy ones. You must feel with sorrow all the dishonor done to Christ in His holy Word, all the misery of Christendom, all the unjust suffering of the innocent, with which the world is everywhere filled to overflowing: you must fight, work, pray, and, if you cannot do more, have heartfelt sympathy. (A Treatise Concerning the Blessed Sacrament of the Holy and True Body of Christ and Concerning the Brotherhoods)
Hearts Burning Within Us. It was the women who came to understand the Risen Christ while the men, in fear, locked themselves into a room. (There was some funny discussion about how men do not listen, but I digress…) The women have their stories, and eventually the disciples on the road have their "burning heart" story too. The women knew and shared, but sometimes the burning heart must be your own. We must each have our own stories of experiencing Christ as well. One oblate shared that at the beginning of stay at home orders, she was overcome with weeping beyond words or explanation. Weeping can often be a burning heart experience—a feeling of connection with others, God, nature, an expression that allows us to get out of our head and beyond thought. We seek our own experiences and we also listen to each other's stories. We are not alone, we accompany others. The women and the men who followed Jesus find the Risen Christ in their own way.
It is important to ask ourselves if we invite Christ into our life, to reflect on how Christ has been made known to us. This is when we begin to recognize him. The definition of recognize is to know again. Jesus may not always feel present, but we can come to know the Christ again. Our Road to Emmaus, then, is understanding how we identify with the two disciples on the way. What do we need to do to see more clearly?
After morning prayers and Lectio Divina, we were invited to Mass online at Christ the King Priory. After lunch on our own, we reconvened on Zoom for small group discussions reflecting on the Prologue 14-20, 17 of the Rule of St. Benedict.
Seek peace and pursue it.  -St. Benedict
Specifically, we discussed ways that we can find peace in the chaos and uncertainty of this worldwide pandemic. The many ideas may sound cliché, but there is something to these actions and attitudes that bring peace, if but only for moments at a time—controlling our thoughts, remembering that we aren't in control, spending time in nature, appreciating the ordinary, looking for the beauty in simple things, realizing that worry does no good, taking one day at a time, not looking too far down the road with our thoughts and worries, and focusing on what we can do for this day.
In this time of sheltering at home, many of us are spending more time alone than usual. But in our solitude, we must ask how we can serve each other as a community while recognizing our human solidarity. We focus so much on our individuality, but the pandemic has heightened our awareness that we are one. Our hope is that we will experience a paradigm shift, a spiritual awakening, and a greater sense of community, responsibility to others and solidarity, rather than narcissism or a growing resentment at the need to follow guidelines about wearing a mask or physically distancing.
Fr. Volker shared the essay, "Prayer is not enough" by the Dalai Lama on why we need to fight the coronavirus with compassion, commenting that "no Christian could have said it better." Full essay here.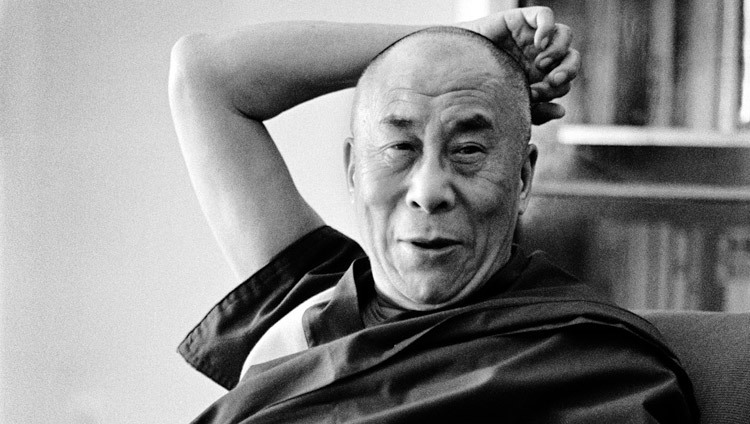 "From the Buddhist perspective, every sentient being is acquainted with suffering and the truths of sickness, old age and death. But as human beings, we have the capacity to use our minds to conquer anger and panic and greed. In recent years I have been stressing "emotional disarmament": to try to see things realistically and clearly, without the confusion of fear or rage. If a problem has a solution, we must work to find it; if it does not, we need not waste time thinking about it.
We Buddhists believe that the entire world is interdependent. That is why I often speak about universal responsibility. The outbreak of this terrible coronavirus has shown that what happens to one person can soon affect every other being. But it also reminds us that a compassionate or constructive act—whether working in hospitals or just observing social distancing—has the potential to help many.
In this time of great fear, it is important that we think of the long-term challenges—and possibilities—of the entire globe. Photographs of our world from space clearly show that there are no real boundaries on our blue planet. Therefore, all of us must take care of it and work to prevent climate change and other destructive forces. This pandemic serves as a warning that only by coming together with a coordinated, global response will we meet the unprecedented magnitude of the challenges we face.
We must also remember that nobody is free of suffering, and extend our hands to others who lack homes, resources or family to protect them. This crisis shows us that we are not separate from one another—even when we are living apart. Therefore, we all have a responsibility to exercise compassion and help." Full essay here. 
My loyal companion, Bailey, at her second online Oblate meeting. Perhaps she napped a little during the discussion. Peace does not escape her. 
Even during this time of uncertainty, we must seek peace. Perhaps it is only in the seeking that we can experience "hearts burning within us", to recognize the Risen Christ, to see the sacred in the ordinary, the beauty in simplicity. Indeed, we are one body and Christ lives within us.
May our days be filled with the Eucharist, a continual thanksgiving.
Emmaus Prayer
Lord Jesus, hear this prayer for my spiritual renewal. I praise you for calling me. You once opened the scriptures to the disciples on the road to Emmaus. Now renew me with the trust and power of your word. Nourish me with you Body and Blood. Help me to imitate in my life your death and resurrection. Give me enthusiasm for the gospel, zeal for the world's salvation, humility in service and concern for my sisters and brother. For you love me, Lord Jesus, and I love you. I pray in your name. Amen.
More Oblate Lectio Divina discussions HERE.
Sources:
Rule of St. Benedict
New American Bible
Study Guide for the Rule of St. Benedict with Reflections for Oblates and All Who Seek God, Maria-Thomas Beil, OSB, pages 13-15
© Jodi Blazek Gehr